Exercise must be an essential part of every child's life.
Encouraging regular physical activity is an important thing you can do for the health of your family, as well as your own health.
Teaching the children around you the importance of being physically active is an invaluable gift to give a child—one that will keep on giving for a lifetime.
In this article, For Kids will mention the benefits of exercise for kids and how daily workouts improve kids' health.
25 benefits of exercise for kids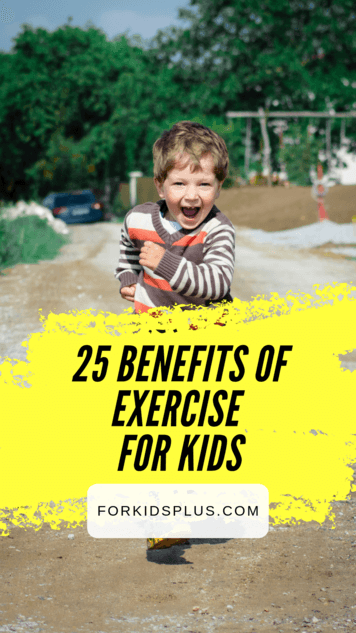 Burning calories, which helps with losing or maintaining weight.
Helping to strengthen muscles and bones.
Improving cardiovascular endurance.
Producing endorphins—chemicals that can help children feel more peaceful and happy. They can also increase self-esteem and mental clarity, and enhance brain functioning.
Reducing the risk of cardiovascular disease.
Decreasing the risk of serious illnesses later in life, including type 2 diabetes and high blood pressure.
Reducing the risk of some cancers.
Increasing the chances of living longer.
Helping increase a child's creative development.
Teaching problem-solving skills.
Aiding in motor skill development.
Encouraging family involvement.
Assisting in social development.
Improving co-ordination skills.
Teaching sportsmanship.
Teaching kids how to follow basic rules.
Teaching kids how to receive instruction and direction from someone outside the family.
Developing confidence.
Developing cognitive thinking.
Helping kids become more aware of their bodies.
Teaching kids about caring for their bodies.
Helping children sleep well.
Producing a healthy appetite.
Teaching kids to become more focused.
Helping kids establish friendships.
Average time needed for daily exercises
Experts from the CDC recommend that kids 6 to 17 years old get 60 minutes or more of moderate to vigorous physical activity each day.
Kids in this age group shouldn't sit inactively for two or more hours.
Their physical activity should include both:
Aerobic or cardiovascular exercise
Muscle-and bone-strengthening exercises
The 60-minute period of time is a minimum, not a maximum, and should be incorporated into a child's day, seven days a week.
The 60 minutes of exercise can be broken down into either:
Four 15-minute periods of exercise
Two 30-minute stretches of exercise
Either way, the child must receive at least 60 minutes of exercise in total.
This exercise can involve a structured activity such as soccer, riding a bike, basketball, swimming, dance, gymnastics or any other heart-pumping sport.
It can also involve an unstructured activity, such as tag, relay races or any of the other games outlined on this site.
Read more on this topic: Exercises for kids: Equipment needed & 26 Stretching Exercises
Daily training guide
Here's a sample daily exercise plan. It uses a combination of cardiovascular exercises and body-weight resistance training:
Day 1: Upper-body training and meditation
Day 2: Cardiovascular workout and Yoga
Day 3: Lower-body and core/torso training and Pilates
Day 4: Cardiovascular workout and stretching
Day 5: Upper-body training and Pilates
Day 6: Cardiovascular workout and Yoga
Day 7: Game day