Cycling for kids: Have you decided to involve your children in the game of cycling?
For Kids will tell you all of the necessary information about cycling for kids, starting from the history of this sport, the benefits, the drawbacks, possible medical contraindications and the different types of biking.
Additionally, you'll learn what is the best age to start cycling for your kids, the average cost of cycling lessons and equipment and where to find national cycling organizations.
Table of Contents
A brief history of cycling sport
In 1817, the German Baron Karl von Drais invented a prototype bicycle, and it didn't have pedals like the modern bike.
Over the next 70 years, this prototype improved and approached the bikes we know today.
The first world competition among cycling enthusiasts began in the late 19th century, and it became an Olympic sport in 1896.
On June 14, 1900, the Union Cycliste Internationale (UCI) was founded in Paris and replaced the International Cycling Association.
Different types of cycling sport
Today, there are several types of cycling, divided into racing and non-racing competitions.
Only five of these types are Olympic. So without further ado, let's review them:
a. Olympic racing
1. Road cycling
This is the classic form of cycling during which long-distance races take place on a hard road that doesn't travel through rough terrain.
Usually, the average distance of this race ranges from 50 to 300 km, and it lasts from one to 21 days.
It involves both team and individual competition in the form of one stage (criterium), time trial or multi-stage events.
The three major European professional cycling races are multi-stage events: Tour de France, Giro d'Italia and Vuelta a España. Collectively, they're termed "the Grand Tours."
2. Mountain bike cycling
Mountain bike cycling (MTB) is held on off-road terrain and involves several types of races. Among them are a circular ride at a distance of up to 5 kilometers, and a 100-kilometer marathon.
MTB became popular after cyclists began to fit out their bicycles with rapid-shift gears, wider tires and groundbreaking suspension components.
Cross-country mountain biking appeared in the Olympics for the first time at the Atlanta 1996 Games.
3. Track Cycling
In this type of cycling, cycling races take place indoors on banked tracks or velodromes (a velodrome is an arena designed specifically for track cycling).
Cyclists use "track bicycles" without brakes or freewheels.
4. BMX
BMX or bike motocross races run on off-road tracks with natural and artificial barriers in the form of banked corners and flat springboards, holes or winding roads.
Usually, riders use single-gear BMX bicycles and launch themselves from an eight-meter high.
BMX racing recently became an Olympic sport and has been contested since the Beijing 2008 Games.
5. BMX Freestyle
This is one of the extreme sports that's been derived from BMX racing.
The Union Cycliste Internationale (UCI) added this cycling discipline in 2015.
In 2017, the International Olympic Committee announced the inclusion of BMX Freestyle in the next Olympic Games in Tokyo 2020.
b. Non-Olympic racing
1. Cyclo-cross
2. Cycle speedway
3. Motor-paced racing
C. Non-racing competitions
1. Artistic cycling
2. Cycle polo
What is the best age to start cycling for kids?
Acquaintance with the bike can be started in early childhood. At the very beginning of the journey, a child can ride a tricycle or four-wheeled bicycle.
Parents should teach the child how to use the brakes properly and ensure that they don't use their lower legs to stop.
All the rules of the road should be explained to a novice cyclist.
The next stage is a two-wheeled bicycle. In order to understand whether a child is ready to move on to this stage, watch them riding their three-wheeled or four-wheeled bike.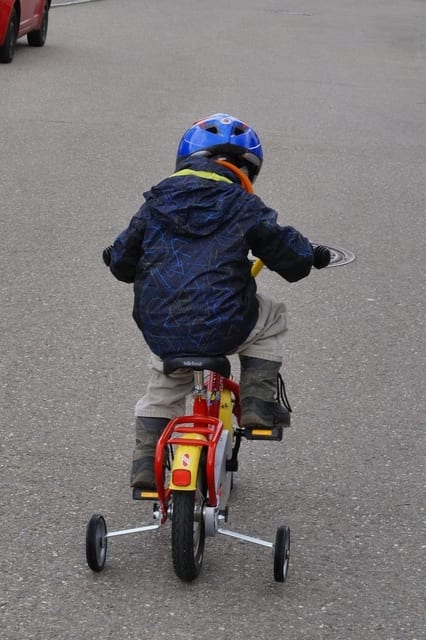 If the child has mastered the bike to the point that they can accelerate easily and go around obstacles, then it's time for a two-wheeler.
Schools and clubs begin to accept children from eight years of age and onward. By this age, they've become more disciplined and are already thinking about their own safety.
Their motor skills are developed much better than those of preschool children.
When a kid joins a cycling academy, it's preferable that they have previous knowledge of how to ride a bicycle.
Boys and girls
Cycling is a universal sport that suits both boys and girls. There is an opinion that cycling can harm women due to pressure on the pelvic bones, but there is no evidence of this.
A girl will benefit from cycling, as the risk of developing varicose veins will decrease and their endurance will increase.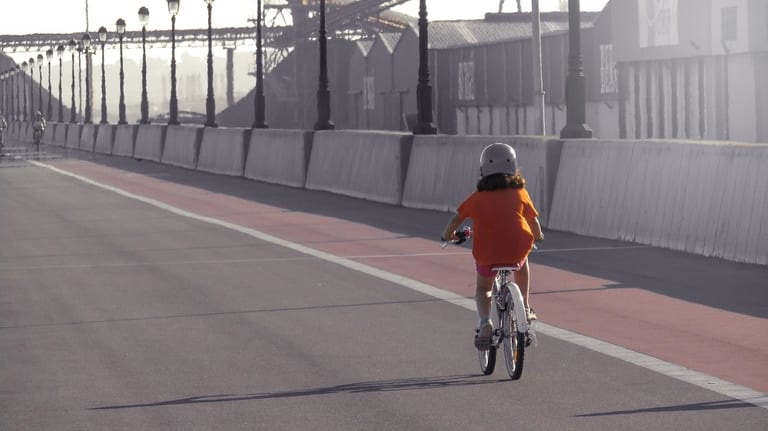 If they take up cycling, a child's body will be stretched and will always be in great shape, due to the working of almost all the muscles in the body.
By the way, women's cycling was included in the program of the Olympic Games in 1984. Therefore, a girl will be able to achieve global success.
Benefits of cycling for kids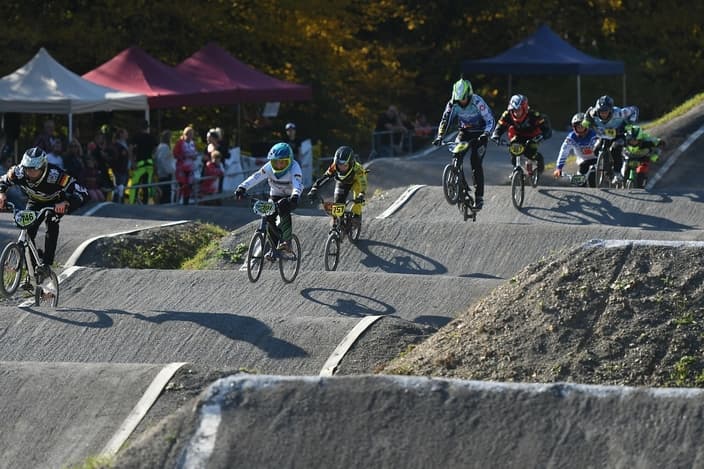 Cycling has its undoubted advantages, as it's considered not only as a sport, but also a fun activity. Here are a handful of the main advantages:
1. Positive effects on the nervous system
Fresh air, movement and improved blood circulation strengthen the child's nerves and make them alert and more active. 
2. Improves the work of the cardiovascular system
Due to aerobic exercise, the heart muscle becomes stronger and pumps more blood.
3. Improves the respiratory system
During cycling, the diaphragm is trained, which increases the respiratory capacity of the lungs.
4. Boosts immunity
The body of a cyclist becomes more resistant to the common cold than it otherwise would be. Also, cycling reduces the likelihood of developing diseases associated with the movement of blood.
Minuses of cycling
Cycling has disadvantages. Among them are:
1. Frequent injuries
If an athlete is distracted even for a second, there's a chance of falling on the rough road.
In order to minimize the consequences, it's best to use protective equipment.
Furthermore, because of the constant load on the joints, the child may suffer from pain and arthritis over time.
However, if you follow all the rules of safe biking and be sure to do a good workout each time, including stretching before and after, you can save your child from pain.
2. Possibility of dehydration
Due to riding for long distances and at intense muscular loads, the body will quickly lose water and dehydration may happen.
A young cyclist must take water with them on their bike and regularly drink, as the consequences of dehydration is so dangerous.
3. The negative effect on the genital organs
Due to the fact that the female and male genitals are constantly in a squeezed state on a bike, their sensitivity could decrease.
Of course, in childhood, it doesn't matter, but if a child decides to link his adult life with cycling, then this drawback should be taken into consideration.
You can decrease the consequences, in this regard, if you use special equipment.
Medical contraindication of cycling
Cycling has a positive effect on the growing child. It develops the cardiovascular and respiratory systems, along with the musculoskeletal system, and speeds up the metabolism.
However, positive effects can be minimized if the child has one of the following health problems:
Bronchial asthma
Spinal disorders
Orthopedic problems
Diseases of the heart and blood vessels
Cerebellar disease.
Therefore, before you let your child start riding bikes as a sport, consult with at least one pediatrician and get a permissive certificate.
The best cycling equipment
sponeed Men's Cycling Shorts Padded
Joovy Noodle Cycling Helmet XS-S
TriSeven Triathlon Cycling Shoes
sponeed Men's Cycling Shorts Padded
Joovy Noodle Cycling Helmet XS-S
TriSeven Premium Nylon Triathlon Cycling Shoes
The average cost of cycling lessons and equipment
a. Cycling equipment cost
You'll need to buy the following equipment for your junior cyclist:
Professional bike
Its value will depend on the type of cycling you choose.
Note that the bike must be chosen carefully. It must match the height and physical characteristics of the child.
The feet should easily reach the bottom pedals and be able to fully straighten while moving. You should pay attention to the size of the wheels, too. The taller the child, the larger their diameter should be.
When a son or daughter is above 135 centimeters in height, you can switch them to an adult bike.
Protective gear
Hand protection
A protection kit that includes knee pads and elbow pads.
Gloves
Cycling clothes
It's best if the child has several cycling kits to wear in different weather conditions.
For example, for warm weather, you can buy a bike jersey and bike shorts. For cool weather, a long sleeve jersey and bike pants are a good choice, and for classes in the coldest season, buy a cycling sweatshirt and jacket.
Cycling shoes
There are special sneakers that are convenient to wear while riding a bike.
b. Cycling classes cost
The cost of cycling for children depends on which school you choose.
Private biking academies
Training at private clubs can cost from $30 to $70 per hour.
For example, one-on-one BMX training at Ride the Factory Academy costs $65 per hour for non-members, with a $30 discount for club members.
Free biking academies and organizations
Many national non-profit organizations provide free cycling lessons for kids and families. Here is a list of some of these organizations:
National Youth Cycling Organizations
NICA – National Interscholastic Cycling Association, a U.S. high school mountain bike league
Bike East Bay – Free riding classes and tips (such as how to avoid bike theft) for new riders
Kidical Mass – Group family bike rides organized in cities across the U.S.
IMBA – The International Mountain Bicycling Association, which offers Take a Kid Mountain Biking Day
Little Bellas – A mentoring organization for girls in mountain biking
USA Junior Cycling – USA cycling program for youth
CycleKids – Non-profit organization working to get kids on bicycles
Trips for Kids – Nationwide organization that takes kids out on trail rides.
Bend Endurance Academy after school cycling programs
See the complete list of Youth Cycling Clubs, Development Programs and Family Bike Rides in the U.S. and Canada on Rascal Rides.
c. competition fees
Your spending will depend on the distance of the trip and the cost of living.
Cycling for children is quite an expensive sport. Therefore, parents should be prepared for large financial expenses at least once every two years.
Summary
Since children already start cycling at a young age, it won't be difficult for you to find out if they desire to engage further in this sport.
Your child's desire should be your main concern, but don't forget about contraindications for health reasons, and get ready for big financial expenses.
Don't be afraid to enroll a girl in this sport. With the right approach, it won't harm her. On the contrary, she should grow slim and fit.
Be sure to support the child, and success won't wait!
References