Basketball is a team sport in which a team of five players play against another team.
The aim is to shoot the maximum number of baskets in the hoop to win the game.
Basketball can be played by adults and children at any time of the year and is considered an indoor and outdoor activity.
Basketball for kids is unique in that it develops children not only physically, but also mentally.
Along with endurance, excellent coordination, and agility, the basketball practice improves a child's logical thinking and also teaches kids to solve non-standard tasks.
In this article, For Kids will tell parents all that they need to know about kids basketball, starting from the best age to start basketball lessons, as well as the pros and cons of this sport.
You'll find tips on how to choose the right basketball academy and the average cost of the necessary equipment.
Basketball for kids
Table of Contents
The best age to start basketball for kids
Professional basketball coaches recommend starting basketball for kids at the age of eight or nine years.
This age is considered optimal because the child's body becomes stronger and more prepared for serious workloads. Their co-ordination improves and the child's mental development reaches the necessary level for learning the skills.
Basketball is a rather complicated sport that requires endurance, good co-ordination, mastery of the game's technique, and the ability to think analytically.
At this age, children will be ready to learn the rules, join the youth team and start some serious practicing.
Age of preparation
If you decide to prepare your child to play basketball, it's not necessary to wait for the onset of the ideal age.
At the age of three to four years, the child can go to the gym or start gymnastics, and at the age of five or six, they can participate in swimming, tennis or martial arts.
Any sport enhances a child's physical endurance, their flexibility and their reaction time., The mind, in general, will become well-prepared for any future sport.
You can also send your kid to a preparatory group for basketball. For the first one or two years, they won't study playing techniques and combinations, but will master the ability to hold the ball and do general physical training.
The advantages of basketball
The popularity of basketball is explained by the large number of benefits of this sport. Here's a list of the most basic ones.
1. It improves kids' health
Basketball doesn't only develop the arms and legs. It helps develop all muscle groups, as it requires great endurance.
Meanwhile, it strengthens the nervous, cardiovascular, and respiratory systems of any small athlete.
Basketball, like any sport, also reduces the risk of diseases, from seasonal colds to more serious diseases.
2. It aids with mental development
The negative stereotype about the mental abilities of athletes certainly doesn't apply to basketball.
With basketball, a child is taught from an early age to be a tactician, analyst and forecaster.
A child will learn to quickly react to a change in their situation, predict the behavior of the competitors and come up with a complex tactical combination in a matter of seconds.
Such skills will be useful not only on the playing field or court, but also in daily life.
3. It offers social benefits
Any team sport such as soccer or handball will help children learn to socialize, but in basketball, tall children, in particular, will gain confidence in themselves—especially girls, who can feel like white crows on other sports teams.
Additionally, teamwork will teach children about discipline, mutual aid and altruism, and give them a sense of camaraderie that is necessary for any child.
4. It's an affordable game
Theoretically, to learn how to play basketball, you need only a ball and sneakers.
Of course, at a professional level, you'll need regular classes at a tennis academy with a good coach, but these don't cost sky-high amounts of money.
A child can practice at any time in the yard, or in a school gymnasium where there's at least one basketball ring.
5. It promotes emotional expression
Team sports are useful because they allow the child to not only get an adrenaline rush and release their accumulated energy, but also to share strong emotions. Whether they're experiencing a victory or a defeat with their team, they'll learn to feel unity with other people and develop empathy.
6. It helps develop a strong character
An athlete, especially a professional, will always be a person with a strong character and a special temperament.
The ability to accept defeats, achieve goals and control oneself that a kid will learn in sports will be beneficial to the kid in everyday life.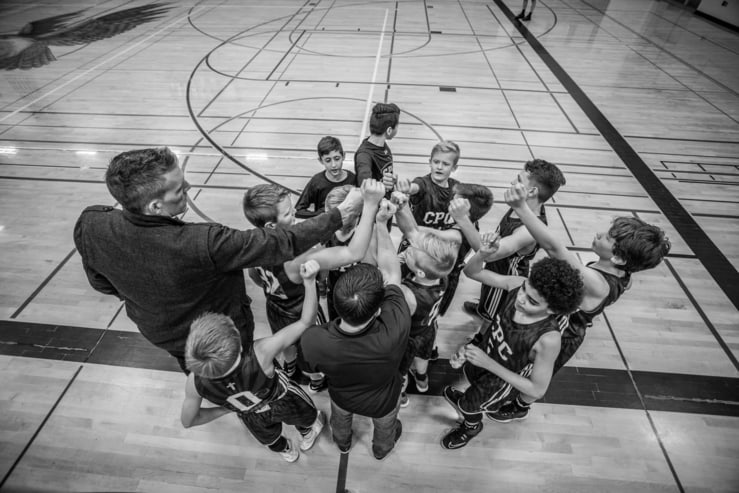 Disadvantages of playing basketball for kids
Basketball, for children, has its drawbacks. They, however, are relatively few:
1. Risk of injury
According to The American Journal of Sports Medicine, the most vulnerable places on the body of a basketball player are the ankles and knees.
These are the parts that are most often injured, and this usually occurs during contact with other players. Note that the women's injury frequency is 1.6 times that of men.
The right equipment, an experienced coach and regular proper stretching before each game will help reduce the risk of injury.
2. The team comes first!
This disadvantage can be called subjective, because, for some children, personal achievements and attention to their personalities are very important, while others prefer not to stand out and enjoy the opportunity just to be useful to the team.
The same applies to parents. If you're extremely ambitious about your child, you should prepare in advance for the fact that all attention will be paid to the team, not to them alone, and the success of the team is more important than personal achievements in basketball.
3. Numerous contraindications
Unfortunately, not all children's health will allow them to play basketball professionally.
However, if your child has a medical contraindication from playing basketball, don't despair. Check with sports doctors, as perhaps the child will be allowed to engage in this sport at the amateur level.
If contraindications are too much of a problem, you'll have to choose a quieter discipline for your child, such as swimming or equestrian.
Medical contraindications of kids basketball
Basketball is quite a complicated sport, involving complex loads on the entire body, so there are some medical contraindications that stop children from playing basketball games.
You should not play basketball if you have:
Certain cardiovascular diseases
An instability of the cervical vertebrae
Some diseases of the musculoskeletal system
Flat feet
In some cases, though, basketball can be beneficial to a child's health.
It not only strengthens the body as a whole, but also improves peripheral vision and the respiratory system. It has a beneficial effect on the immune system and helps a child lose weight, if necessary.
In any case, before you give your child over to the basketball game, be sure to consult your doctor and have them conduct a comprehensive examination.
Average cost of basketball classes and equipment
Basketball is one of the most affordable sports when it comes to financial investments.
The main items of expenditure are equipment, classes, seasonal competitions and camps. Let's take a closer look at these expenses:
a. Basketball equipment for training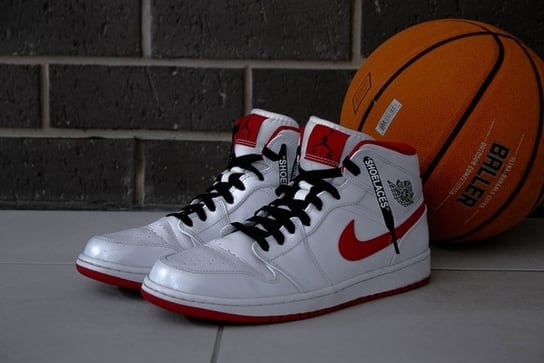 For training in a basketball academy, you won't need to purchase an expensive professional ball. You'll only need your own for personal training.
At some basketball schools, they give out all the necessary equipment for free.
If you buy your child's equipment yourself, the child will need all the items from the following basketball equipment list:
1. The ball
The average cost of a basketball ranges from $10 to $70.
The official basketball is made of leather and its size ranges from 29.5 to 30 inches in circumference for men's competitions and 28.5 inches in circumference for a women's game.
A well-inflated ball should bounce 49 to 54 inches in height when bounced from from the floor.
Basketball Size Chart – Recommended Sizes for Kids & Adults
| | | |
| --- | --- | --- |
| Age | Size | Dimensions |
| 2 to 4 years | Size 1 "Micro-mini" | 16 inches, 8 oz |
| 4 to 8 years | Size 3 "Mini" | 22 inches, 10 oz |
| 5 to 8 years | Size 4 "Junior ball" | 25 inches, 14 oz |
| 9 to 11 years | Size 5 "Youth size" | 27.5 inches, 17 oz |
| 12 to 14 years | Size 6 "Intermediate" | 28.5 inches, 20 oz |
| 15 years & older | Size 7 "Official size" | 29.5 inches, 22 oz |
2. Basketball shoes
The average cost of basketball sneakers ranges from $40 to $120.
High-top basketball shoes are preferred so a child can maintain a high level of traction on the basketball court and feel more comfortable during games.
3. Basketball clothing
A T-shirt and sports pants or shorts are enough, but if the child joins a group or academy, a uniform may be needed.
The cost will vary significantly, according to the brand, but the choice is yours.
4. Protective equipment
Knee pads to protect the child from abrasions and injuries.
A suitable mouth guard, which will cost $10 to $20 to protect the child from dangerous contact with other players, the ball and the court.
5. Court equipment
If you need a complete basketball set for an indoor game, you should add these items to the list:
Alternatively, you can buy a Lifetime portable basketball system for $250 to $600.
6. Training equipment
You can add to the list some training equipment, such as speed cones and an agility ladder.
b. average cost of basketball classes
This is the same principle as in many other sports: there are both paid and completely free classes.
The average cost of 60-minute basketball lessons is $55.
Of course, the cost will vary according to the teacher, the location and the type of training.
You can find basketball lessons for groups, which will be cheaper than signing up individually.
For example, eight training sessions for a group of four may cost $100 ($25 per player).
c. Events and camps
These include summer sports camps, out-of-town training camps and competitive basketball leagues in other cities or countries.
The latter, as a rule, are paid by the receiving party (except for the travel costs), but the participation of parents in paying for camps varies and can range from a few percent to the full cost.
Youth basketball leagues are a great way to improve the kids' fitness level and boost their skills.
How to choose the right basketball academy
The child's sporting success will depend not only on personal talents, but also on attending a good school.
Fortunately, choosing suitable basketball classes near you won't be difficult. Thanks to the popularity of the sport, there are various options, even in small cities.
When choosing a school, consider the following points:
1. The equipment
For effective training, you need not just a sports hall, but a basketball court with the appropriate dimensions (28 by 15 meters, according to the standards of the International Basketball Federation) and a suitable floor.
2. Expectations of classes
If you're going to raise a champion, it's better to choose big clubs that offer national competitions and regular basketball camps.
3. Financial capabilities
Find out whether a school offers free equipment, how outdoor events are paid for, whether they charge for additional training, if the classes are generally free, etc.
4. Reviews
Before sending your kid to basketball lessons, take into account other parents' reviews and personal impressions of the coach.
Search on the Internet, ask friends and watch the school's training in person, if possible;
5. The opinion of the child
If, for some reason, a small athlete doesn't like the school, don't ignore these wishes. The most important thing is the child's pleasure.
Summing up
Youth basketball is an exciting and dynamic sport that will comprehensively develop a child.
By participating in it, a young athlete will not only improve their fitness level, but also learn how to work as part of a team and think creatively.
Both boys and girls are equally well-suited to basketball. The main condition of participation is that the child must love the movement and be sociable enough to have fun at the practices.
It's better to start a child in classes at the age of eight to nine years, and then the child will be able to train at any time of the year and in any weather, on the basketball court or on the street.