Tennis is one of the racquet sports, as it's played with a racquet and a ball. This popular game is suitable for both boys and girls, and kids and adults alike.
It first appeared between 1859 and 1865. An individual player can compete with another one, or a team of two players can play with another team.
The International Tennis Federation is the governing body of world tennis, wheelchair tennis and beach tennis, and it was founded in 1913.
In this article, For Kids will tell parents all that they need to know about tennis for kids.
What is the best age to start, the benefits, the disadvantages, potential medical contraindications, how to choose the best tennis academy, and the average price of tennis equipment will be covered.
Tennis for kids
Table of Contents
The best age to start tennis for kids
Optimally, the best age to start tennis lessons for kids is four to five years.
At this age, kids will learn the game's techniques, such as how to properly hold a racquet, perform various jumps and work through tactics.
The brain of a four- or five-year-old child will best absorb and remember this type of information. 
In starting to engage in tennis at this age, a child will not only master basic tennis techniques faster, but will also begin to better understand the rules, and then learn to analyze game situations and think through strategies. 
All of this affects the development of intelligence in general. The child develops logical and analytical thinking.
During these years, children are still underdeveloped in co-ordination.
Therefore, during kids tennis programs, special attention is typically paid to physical exercises that are aimed at developing agility, flexibility and attentiveness.
One-hour tennis lessons, two to three times a week for young tennis players is enough.
When the child is seven to eight years old, the workload can be increased to four to five classes a week.
Tennis for toddlers
There are cases when parents send their child to learn about tennis at the age of three years old so that they get used to the ball and racquet.
In this case, classes take the form of funny tennis games and drills.
The trainer may suggest several moving exercises, such as:
Roll the ball with the racquet along one line and then collect the ball with the racquet
Competitions such as who can catch or discard more balls
Sending and receiving the ball
Parents can watch their children and decide whether this sport is suitable for a child, taking into account whether they like it or not.
7 benefits of playing tennis for kids
1. Tennis is good for health
Tennis increases flexibility, develops speed and a good reaction time, and improves blood circulation.
During tennis lessons, the muscles of the back, arms and legs work actively.
The respiratory system and the cardiovascular system are also actively working.
2. It helps with formation of character
Kids tennis players, during competition, must independently situations and make decisions quickly. The outcome of each game will depend on their actions.
The game of tennis includes ups and downs, and the competition doesn't always end in victory.
Thanks to this, many qualities are brought out that will be useful to children not only in sports, but also in life. These include responsibility, independence and control over their emotions.
3. It increases flexibility
Children will do a lot of stretching movements during warm-up before and after training, and also while playing with the tennis ball.
Kids may change their direction as many as five times in 10 seconds at a single point!
This will make them more flexible and able to bend more easily.
4. It's good for hyperactive kids
Tennis is a good fit for movable and hyperactive children. During the game, they get rid of their active energy in a useful way.
5. Tennis is good for sight
During a tennis game, a child needs to focus on the moving ball. This develops their eye muscles and improves blood circulation in the organs of vision.
Tennis will also enhance a child's hand-eye coordination, as the kids learn to judge the timing between receiving the ball and the exact point of contact.
6. It strengthens bones and muscles
Playing tennis regularly strengthens the bones of young players, as well as their muscles.
It'll increase a child's body balance as well, as they'll move towards the ball, stop, then move again.
A child will repeat this rhythm many times during a single tennis match.
7. Tennis is an exciting game
Tennis is an exciting game, as it contains elements of competition, strength training and aerobic training. Plus, tennis makes you think and make decisions.
Your kids will love to play it with their friends.
You may also be interested in: Soccer for Kids.
Disadvantages of practicing tennis for children
Recreational and competitive tennis, like any active sport, requires the right approach and care during the game for yourself and others.
After all, an irresponsible situation can cause damage to a person's health.
1. Trauma from a tennis ball
A tennis ball, despite its lightness (only 50 grams), can cause bruises, hematomas and finger sprains when it's hit unsuccessfully at a high speed.
2. Other injuries
Musculoskeletal system injuries may happen while you're playing a tennis game. 
If an abrupt movement is unsuccessful, you can dislocate your leg, get a sprain or injure your knee or ankle.
3. The big load on joints
During the practice of tennis, there is typically a large load on the joints of the arms and legs. This must be controlled so you don't end up with serious illnesses or injuries.
Before training, it's necessary to stretch your muscles and joints well by performing squats, swinging, bending or jumping rope.
During the game, you'll need to follow the proper tennis instructions and techniques and be careful, so you can avoid injuries.
Kids tennis: Medical contraindications
Since this sport is mobile and involves sudden, active movements, it's a contraindication to engage in tennis with diseases of the musculoskeletal system.
Also, after injuries, or if your child complains of inflammation of the ligaments, back problems or joint arthritis, you should avoid tennis for at least a while.
There are medical restrictions on tennis playing for people with diseases of the heart and blood vessels as well.
Before deciding to give your child over to the sport, be sure you consult with a pediatrician.
The average cost of tennis lessons and equipment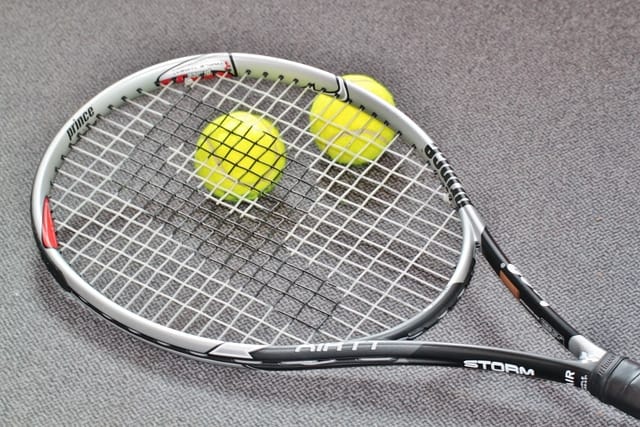 a. Cost of lessons
Tennis for children is now very affordable. You can do it for free at sports clubs, at fitness centers, at school and even at public parks.
Subscriptions at private tennis academies for group lessons range from $20 to $80 per hour for four players.
A single private class ranges from $15 to $75.
b. Cost of equipment
You'll also have to spend money on a uniform for classes and competitions, comfortable tennis shoes and a suitable tennis racket, in accordance with the age of the tot or child.
Tennis racquet prices:
You can buy a junior tennis racquet for $20 to $30, depending on their size.
You'll need around $30, annually, to update the racquet grip and strings.
Here is a simple chart about how to choose the approximate racquet length that is appropriate for kids of a certain age and height:
| | | |
| --- | --- | --- |
| Age | Height | Racquet Length |
| 4 years or younger | 40 inches or shorter | 19 inches |
| 4 to 5 years | 40 to 44 inches | 21 inches |
| 6 to 8 years | 45 to 49 inches | 23 inches |
| 9 to 10 years | 50 to 55 inches | 25 inches |
| 10 years or older | 55 inches or taller | 26 inches |
Source: tenniscompanion.org
Best tennis racquets for kids
Wilson Burn Black Junior Tennis Racquet
Hello Kitty Pink Junior Tennis Racquet
Babolat Aero Nadal Junior Tennis Racquet
Le Petit Tennis Racquet & Tennis Ball
Tennis shoes for kids
You'll need special shoes for tennis with non-marking soles, which usually cost around $60 to $90.
Best tennis shoes for kids
Here are some of the best tennis shoes for kids available on the market:
New Balance Kid's 996v3 Hard Court Tennis Shoe
Clothes
A sports suit for tennis includes:
T-shirt,
For girls, a dress or skirt
For boys, shorts
The cost depends on the brand, and it will definitely vary. We'll leave it up to you to decide how much you want to spend on your child's court-style clothing.
Tennis balls & bags
You can find a large selection of both balls and bags online.
Tips for choosing the right tennis academy
Decide if you want to grow a champion or just a healthy and decent person. This will make a huge difference in the type of classes you choose.
Ask about the coaching staff that works at each academy, and their vision.
Find out how classes are conducted and whether competitions or tennis camps are being organized or not.
Ask about youth tennis programs and competitive tennis lessons.
Talk personally with the section leaders, trainers or other parents and read reviews on the internet to know more about a particular tennis center.
You shouldn't choose a club far from home. A child, after a long trip, will be tired and unproductive in class.
Watch the reaction of your child. If they're happy and they shine after class, then you've made the right choice.
Summary
Tennis for children is a sport that brings up healthy, dexterous, enduring, attentive and intelligent kids.
It's a great indoor and outdoor summer activity that suits kids of all ages.
After all, in order to repel a flying tennis ball, you need to quickly react, predict the situation and make a sharp blow.
Thanks to tennis, muscles develop, blood circulation improves and all muscles are activated.
During a tennis game, a child learns to think and analyze. They feel happy while winning, and learn to set new goals and keep their emotions under control after a bad outcome.
References