In this article, For Kids will offer you a list of different types of sports for kids and outline some important benefits of sports, in general, for your children.
In addition, you'll find a list of summer and winter Olympic sports below, ordered alphabetically from A to Z. The list is ordered alphabetically from A – Z. 
List of sports A – Z
1. Individual sports
Alpine skiing
Archery
Billiards
Bocce ball
Bodysurfing
Bowling
Canoeing
Cross-country skiing
Dog sledding
Diving
Fishing
Fly-fishing
Hacky sack
Hang gliding
Mountaineering
Ice skating
Japanese sword arts
Kayaking
Motocross racing
Mountain biking
Parachuting
Parasailing
Pilates
Qi gong
Rafting
Rock climbing
Rollerblading
Rope climbing
Rope jumping
Rowing
Sailing
Scuba diving
Shuffleboard
Skimboarding
Skydiving
Sky surfing
Sledding
Snorkeling
Snowboarding
Snowmobile racing
Snowshoeing
Snow skiing
Speed skating
Surfing
Tai chi
Trapeze artistry
Triathlon training
Unicycling
Wakeboarding
Waterskiing
Weight lifting
Windsurfing
Yoga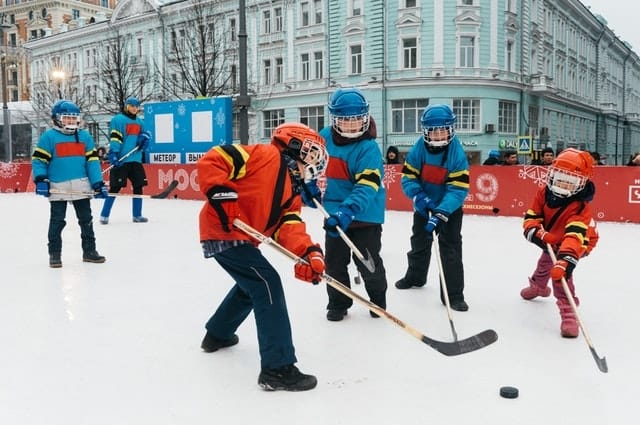 Baseball
Boxing
Broomball
Cheerleading
Cricket
Croquet
Curling
Fencing
Field hockey
Flag football
Football
Hockey
Hurling
Jai alai
Lacrosse
Laser tag
Lawn bowling
Paintball
Racquetball
Rugby
Softball
Squash
Synchronized swimming
Table tennis
Ultimate Frisbee
Wrestling
Acrobatic Gymnastics
Balance beam
Floor exercises
High bar
Parallel bars
Pommel horse
Still rings
Trampoline
Tumbling
Uneven parallel bars
Vault
Read more about the different types of gymnastics.
4. Martial Arts
a. Japanese Martial Arts
– Aikido
– Judo
– Jujutsu (jiu-jitsu)
– Karate
– Kendo
b. Indian Martial Arts
– Dravidian
– Gatka
– Kalaripayattu
– Kuttu varisai
– Varma kalai
c. Brazilian Martial Arts
– Capoeira
– Brazilian jiu-jitsu
d. Korean Martial Arts
– Hapkido
– Taekwondo
e. Chinese Martial Arts
– Bagua
– Drunken Boxing
– Eagle Claw
– Five Animals
– Hsing I
– Kung fu
– Lau Gar
– Monkey
– Praying Mantis
– Tai chi chuan
– White Crane
– Wing chun
List of Summer and Winter Olympic Sports
Here's a list of sports that are part of the Olympic Games.
Some of these sports are a part of the summer competition program, and others are played in the Winter Olympic Games.
Summer Olympic sports
Archery
Artistic swimming
Athletics
Badminton
Basketball
Beach volleyball
Boxing
Canoe slalom
Canoe sprint
Cycling: BMX)
Cycling: Mountain Bike)
Cycling: Road
Cycling: Track
Diving
Equestrian: Dressage
Equestrian: Eventing
Equestrian: Jumping
Fencing
Football
Golf
Gymnastics: Artistic
Gymnastics: Rhythmic
Handball
Hockey
Judo
Marathon Swimming
Modern Pentathlon
Rowing
Rugby
Sailing
Shooting
Swimming
Table tennis
Taekwondo
Tennis
Trampoline
Triathlon
Volleyball
Water polo
Weightlifting
Wrestling: Freestyle
Wrestling: Greco-Roman
Winter Sports
Alpine Skiing
Biathlon
Bobsleigh
Cross-country skiing
Curling
Figure skating
Freestyle skiing
Ice hockey
Luge
Nordic Combined
Short track
Skeleton
Ski jumping
Snowboarding
Speed skating
The most popular sports in the world
Here are the most popular sports in the world nowadays, according to WorldAtlas.com.
| | | | |
| --- | --- | --- | --- |
| Rank | Sport | Estimated Followers | Area of population |
| 1 | Association Football (Soccer) | 4.0 billion | Global |
| 2 | Cricket | 2.5 billion | UK and Commonwealth |
| 3 | Field Hockey | 2 billion | Europe, Africa, Asia and Australia |
| 4 | Tennis | 1 billion | Global |
| 5 | Volleyball | 900 million | Western Europe and North America |
| 6 | Table Tennis | 875 million | Global |
| 7 | Basketball | 825 million | Global |
| 8 | Baseball | 500 million | United States, Caribbean and Japan |
| 9 | Rugby | 475 million | UK and Commonwealth |
| 10 | Golf | 450 million | Western Europe, North America and East Asia |
General benefits of sports for kids
1. Games Teach Socialization
Teaching children how to develop relationships may not be something you'd normally think about when playing games, but games provide a great opportunity for kids to develop social skills such as sharing, showing respect, supporting teammates, controlling their emotions and more.
Playing a game can teach you all that and have practical applications as well, such as when you use a name game to introduce one child to another.
Game time is also an excellent time to reinforce a child's listening skills.
For instance, when one child has a question about a game, be sure that all of the children listen to the explanation.
When playing games with kids, always remember to de-emphasize winning and competition and emphasize good sportsmanship.
2. Sports Provide Opportunities to Learn Self-Control
Children, at a young age, have a difficult time controlling their feelings and emotions.
Daily practice of a sport or game can help them learn this life skill, as it'll teach them discipline.
Find the right moments to discuss handling frustration with your children.
For example, if a child loses his temper during a game, that's the perfect moment for a conversation about this subject.
3. Learning the Rules of a New Game Can Teach Focus
Teaching your child how to play a new game can be challenging. Most kids have an attention span of about fifteen minutes, so as adults, we must be creative.
First, connect before you direct: Ask all of the kids in front of you to look you in your eyes first, and then begin talking to them.
Next, as you explain the game, stay brief, stay simple and ask the kids to repeat your requests back to you. Ask questions to be sure they were listening.
The games that work best for this age group are those that have just a few, simple rules, and preferably, require the children to complete only one task at a time.
Since adventure is everything for this age group, learning a new sport or skill can be an easy sell to kids. 
The act of learning a sport will teach kids to conquer fear, set goals and take risks.
 If you're unfamiliar with some of the adventures provided in the lists above, research the rules of play, gather your equipment and have fun.